The Nijinsky Gibber Jazz Club is an improvisation research ensemble under the direction of Artistic Director/Choreographer Jennifer Mascall. The ensemble performs in improvised sets not necessarily set in time but framed by specific sets of rules. Part of the improvisor's sophistication is in knowing when an impulse, a movement, a whole piece is complete.
The dancers are accompanied by live DJs or musicians. Each time they return to the material, the environment they make is different—order, spacing, rhythm, tone is varied. The dancing becomes an expressionistic landscape and the choreography provides the world, the country.
The Nijinsky Gibber Jazz Club thrives in unusual venues—bars, churches, streets, and other unexpected places. Sometimes it is the mood that can't be shaken, sometimes it is the rhythm pattern, sometimes it is the relationship between dancers. Each new score, each new venue, each new dance is a form of research into the unexpected.
In the words of Jennifer Mascall
"I am interested in close, squashed dancing where within the confines of a small stage or a crowded room, the movement changes but the intention may not. Or when the movement remains at its full capacity, it is shocking—either too big and too close to watch or dangerously close to another dancer. In this way it feels like the city dancing."
Nijinsky Dancer: Jojo Zolina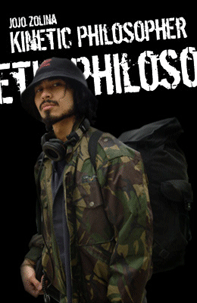 Audience Quotes:
"Jojo 'Kinetic Philosopher', is greatly respected in the dance community not only for his eye-popping dancing ability, but also for the love and passion that he puts into every performance he does or class he teaches."
"Jojo keeps audience members of all ages mesmerized as he dances straight from his heart and soul and melds an exciting and diverse fusion of dance styles with the unique spiritual and tribal edge he adds to his freestyle."
Jojo has performed on stage with many talented music artists including Nelly Furtado, Moka Only, K-Os, Cory Lee, Jordan Knight and The Roots. He regularly works with leading West Coast event promoters such as Gman & Rizk, and Silverwaters/Agroculture Entertainment and makes guest appearances at International Dance Showcases such as the San Francisco Hip Hop Dance Festival and 'For The Luv of It' Dance Festival.
Some recent events Jojo has taken part in include: Injected, Chutzpah Festival, VIDF Festival, Feats Festival, 'Homewerk' (Mascall Dance) and he will be touring Canada and New York in the summer of 2006, guest teaching alongside international dance choreographers.
Nijinsky Dancer: Ziyan Kwan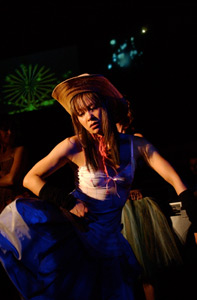 Media Quotes:
"Vancouver soloist, Ziyian Kwan ... is slow motion perfection. Her dance of muted balances and wavering introspection undulates with sensuality"
(Linda Howe-Beck, The Montreal Gazette)
"Each of her crisp, staccato moves across the floor is purposeful and her body arches elegantly, looking like a hand scrawled quarter note."
(Dan Rowe, The Vancouver Sun)
Since 1989, Ziyian Kwan has built her career and reputation as a Canadian dancer whose interpretation is at once riveting and poignant. As well as performing with companies including Kokoro Dance, Anatomica, David Pressault Danse, and Mascall Dance, she has commissioned and danced works by Susan Elliott, Benoit Lachambre, Angelique Wilkie, Barbara Bourget, David Pressault , Peter Bingham, and John Ottmann. Whether as a solo interpreter or as part of an ensemble, Ziyian continues to be a provocative presence on international stages.
Nijinsky Dancer: Susan Kania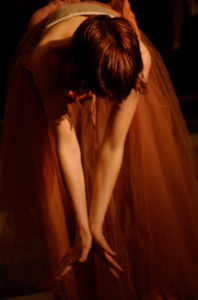 Audience Quotes:
"As her limbs unfurl in the most unexpected directions, she surprises us with the precision of a praying mantis"
"With a grimace that rides a dangle of legs, Susan strides into Nijinsky and dances a most languorous Jazz"
Susan Kania is one of Vancouver's bright young dance talents. Extensive training with Ballet British Columbia and Arts Umbrella is reflected through her unique fusion of classical technique and contemporary savvy. In a short time, Susan has impressed the Vancouver community through her dynamic performances in the works of Lina Fitzner, Helen Walkly, Accacia Schatte, and Jennifer Mascall.
Nijinsky Dancer: Alisoun Payne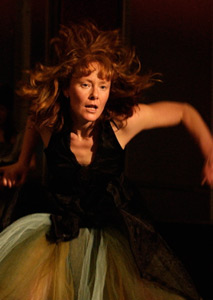 Audience Quotes:
"With the face of a precocious child and the physicality of a fierce athlete, Alisoun is a kinetic force that weaves the space and time surrounding her."
"Packing a conundrum of jabs, jigs, and spirit songs, Alisoun surprises us with the opposition of virtuous versus virtuosic."
Since 1992, Alisoun Payne's professional path has encompassed an eclectic variety of dance arts. Alisoun has performed with Canadian companies Les Ballets Jazz de Montreal, Karen Jamieson Dance Company and Mascall Dance. She has also brought her physical prowess as a trampoline dancer and aerialist to the work of Le Groupe Apogee, under the artistic direction of Cirque de Soleil choreographer Debbie Brown. In addition, Alisoun's versatility is informed by the fact that she has a black belt Chien Lung, an internal/external Kung Fu form.
Nijinsky Dancer: Catherine Anderson