The theme is universal, the method of imaging inventive and unique.
Mascall Dance 's Homewerk is a collection of stories from around the world about HOME .
Audience: Adult, University, High School
Duration: 50 Minutes - 1 Hour without or with question/answer period respectively
Capacity: 600
Contact: Phone the Mascall Dance Office at 604-669-9337 or email admin@mascalldance.ca
Homewerk uses dance as a medium for story telling to engage our ideas of home in creative and physical ways. Four dancers tell stories through words and choreographed movement, using cardboard props that create vivid imagery as they transform from houses into villages, to screens at an airport to medieval gowns. These stories take the idea of home beyond physical space to more abstract concepts of shelter, comfort and acceptance.
Homewerk is an interdisciplinary performance encompassing visual art, theatre, social studies and dance. The stories
are emotionally engaging and intellectually provocative and there is a wide-range of multi-ethnic stories to choose from.
On its recent (seventh) tour, Homewerk proved highly engaging for adult and adolescent audiences, and has in the past encountered success with elementary school audiences. Homewerk can be presented stand-alone (45:00), single performance fee: $3,000, negotiable.
It is also available paired with Nail to House (35:00) and intermission (full evening (1:00), single performance fee for combined program: $3,500.00, negotiable.
Legacy
Mascall Dance's performance on the study of home and the search for belonging acts as an outline that can be followed to either recreate the same show, or produce a 'home-grown' version.
Homewerk Stories of the Month
Below is a child's response from a 'Homewerk' school showing in 2004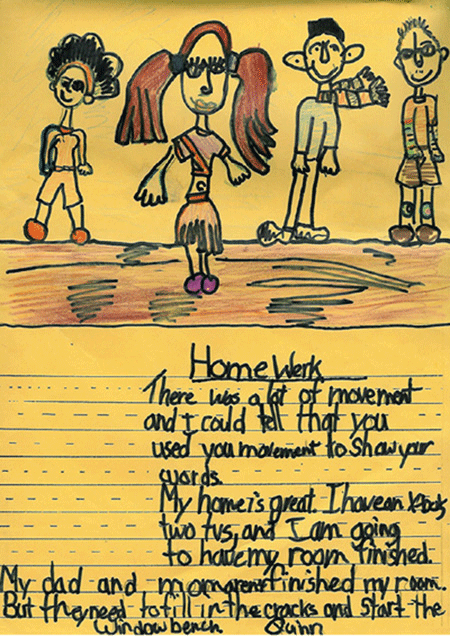 Mascall Dance would love to collect your personal stories of home! Please send us your stories and they could be seen in the next Homewerk performance or posted online at 'Homewerk' Stories of the Month!
The Homewerk 2009 Dancers
Jennifer Cole
Natalie Gan
Sasha Klapkiw
Deanna Peters
Kyle Vicente
The Homewerk 2008 Dancers
Susan Kania
Shay Keubler
Sasha Klapkiw
Kim Sato

Download Homewerk Tech Rider